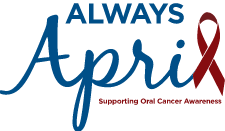 April is Oral Cancer Awareness Month. Always April, a national partnership of oral surgery practices across the country, strives to bring oral cancer awareness into a year-round discussion. At Oral Surgery Specialists of Oklahoma, we know the importance of early detection, and we actively look for signs of oral cancer during patient visits.
The facts...
Oral cancer is rising in low-risk groups.
Oral cancer kills about as many Americans as melanoma and twice as many as cervical cancer.
Oral cancer is rising in women, young people, and non-smokers.
At least 25% of oral cancer victims have no known risk factors.
Oral cancer is a global challenge, with more than 657,000 cases and nearly 330,000 deaths each year.
Schedule a FREE appointment that could save your life.
DATE: Friday, March 12, 2021
TIME: 1 PM to 3 PM
LOCATION
Oral Surgery Specialists of Oklahoma
4320 McAuley Blvd
Oklahoma City, OK 73120
SCHEDULE APPOINTMENT